Bedroom
I needed to build something, to create something that would be useful, and to advance the progression that I have put on hold for the last couple months. So one weekend I finalized a decision, and then I picked up a dresser.
Nothing spectacular I know, but hey it is the next room in the flat transformation and I was in dire need of something new in it. I did quite a bit of research, went to many thrift stores, scoured yard sales, and dug around the internets to find something that would work in the limited space. However none of what I found fit as well as the
TARVA
would. I will be the first to say that I do not need that much drawer space, but I like the idea of more storage room. Not to mention the 3 drawer dresser would look pretty silly under my window.
As you may have noticed from the last hack, the living room/kitchen area has raw wood overtone and a green accent. For the bedroom I have decided to go with a grey/white wash overtone with a yellow accent.
I am pretty sure that some would say that you should stain all of the pieces before you assemble them... but why wait to build.
While that was drying I painted the drawer fronts...
While I waited for those to dry I lightly sanded the dresser and moved it into the room to get a feel for how it would look...
[[needless to say I could not WAIT to get rid of that itty bitty plastic non-sense]]
With the drawer fronts dry, I finished assembling them to the rest of the drawer
Then I put it all together
I really do not like the pulls that it came with, but seeing as I still need some way to open the drawers... I painted them
And then put them on
[I still think the knobs are terrible]
The next step in the bedroom transformation will be a DYI headboard similar to this....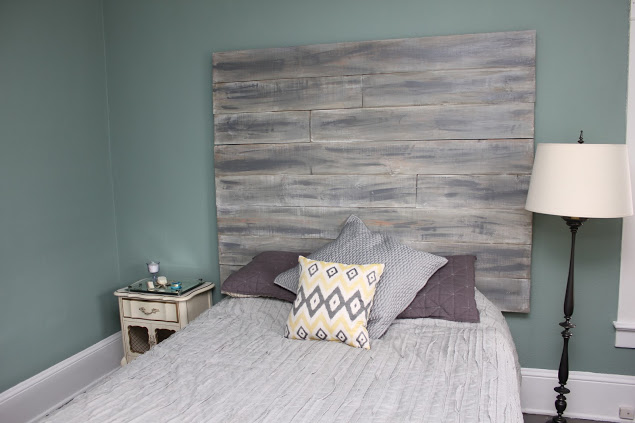 (source)
The wood that I will be using will be similar those that I used for the coffee table, only this time it will be made with a variety of woods: teak, VG douglas fir, African and Honduran mahogany, rift sawn white oak, zebra wood, pine, and whatever else the office calls throw away pieces.
That process is going to take awhile for me to gather that much wood, but in the mean time I'm sure i'll find something else to build or make.
'til next time